Dixie offers many applications to handle
Your Outdoor and Indoor, Freezer, or Chemical Inventory Storage Shelving and Warehouse Racking System Needs
If you operate a warehouse and docking system that requires inventory storage in outdoor or extreme temperature or climate conditions, your business requires a unique set of solutions. No worries. Dixie Overhead Door, the Montgomery and Auburn area's most dependable, local business, has you covered.
We offer many applications to handle your outdoor and indoor, freezer, or chemical inventory storage shelving and warehouse racking system needs. These include shelving, storage racks, rack carts, and custom stacking rack systems.
Our custom climate shelving/racking options feature galvanized metal units that can withstand all that Mother Nature – or your warehouse's commercial freezer – can throw at it. These units are specially designed to withstand extreme temperatures or provide safe storage for your chemical storage.
From bulk racking to cantilever racking to pallet racking systems, we have the solution for your needs. Our stacking rack systems offer a portable, flexible alternative to bulk stacking by minimizing wear and tear on your inventory and maximizing floor space.
We also offer a complete line of warehouse and storage facility racking accessories, including rack carts that make it easy to move your inventory.
Warehouse Storage Systems and Docking Solutions
Sometimes warehouse floor space – or a lack thereof – can be an issue when it comes to warehouse storage solutions. Fortunately, locally-owned and operated Dixie Overhead Door has many storage equipment options that can make the most of your available warehouse space. We can help you get your inventory organized and efficiently stored with pallet racks, wire decking, and partition systems, custom shelving, and cabinets.
Dixie also offers customized control systems that can seamlessly integrate numerous control panels into one central command center, maximizing your warehouse space even more. And of course, our huge inventory and same-day service make Dixie the go-to company for warehouse storage options in the Montgomery, Auburn, Birmingham and Columbus areas.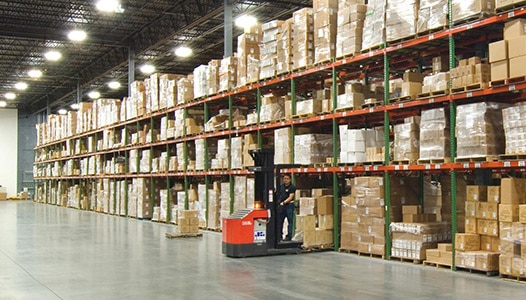 Wire partition enclosure systems are super-handy and economical for a few reasons. First, they are easy to install and can usually be assembled by 1-2 persons. Second, they can be easily taken down, moved, or reconfigured/expanded for a variety of warehouse storage and enclosure needs.
Husky Rack & Wire Crafter products that we offer include:
the no-nuts-and-bolts E-Z wire system, which is fastened with pins and hooks and
the Bolted wire system, which installs five times faster than normal bolt systems.

Both will lead to increased loss prevention and easy control access.
Dixie Overhead Door offer a variety of options for all your industrial shelving needs – big and small. Our complete line of Schaefer and Western Pacific products include cabinet and bookcase-style shelving, as well as shelving applications for bulk and pallet tube storage.
Bookcase and cabinet style shelving offer easy to assemble/move upright shelving with plenty of storage space for tools, packages, and other small-to-medium-sized items. Closed or open-back bin shelving models are available. Pre-engineered measurements are 36 inches wide, 12 inches deep and 84 inches tall
Bulk and pallet storage shelving makes it easy to store intermediate bulky weight items. Built with sturdy, reinforced metals, these units are 6-feet wide, 6-feet tall, and vary from 24-to-48-inches deep. Load capacity on shelves range from 1,650 pounds to 1,900 pounds.
No matter how efficient and productive your warehousing operation is, one unfortunate accident involving an injury, property damage, or something worse can derail your business for days or even weeks. The full financial impact of work-related injuries may not be known for years.
Protect your company's bottom line and your employees' safety with a full line of protective equipment from Dixie Overhead Door.
Among our featured products is the APS Sentry-Rail guard railings. They come in high-visibility powder-coated safety yellow. These guard rails can be purchased in a double rail system which is 44" high or a single rail at 18". Optional and removable swing gates are additionally available.
Dixie also carries guardrail products from WireCrafters and Wildeck.
These are needed to protect your loading dock from accidental collisions, including your expensive dock doors. Dixie Overhead Door carries the full line of gates and barriers by Wildeck & APS which meet all OSHA standards. The door barriers are capable of stopping a 10,000-pound load at 4 miles per hour. We also feature several styles of sliding steel mesh security gates. Dixie Overhead Door can also supply products designed to protect door tracks, structural columns, drain pipes, and the posts supporting your storage racks.